There are some really fabulous places to eat near to Melton Mowbray in Leicestershire and, when it comes to Syston, this is a village which is no exception.
Like many of the Leicestershire towns and villages, you can choose from a wide range of cuisines from Indian and Italian to Turkish and Indo-Chinese. But, while the village can offer food from all around the world, if it's refined English cuisine you're looking for, then there's only one place to come.  The Star Inn is a restaurant near Syston which has delicious food and bags of English atmosphere and charm aplenty.
Imagine enjoying fine wine as you sample a menu full of mouthwatering dishes all created lovingly by our talented chefs and using local produce.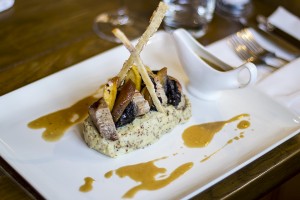 The Star Inn is a Restaurant in Thrussington
Situated nicely by the River Wreake and just off the A46 and A607, the Star Inn is a restaurant in Thrussington which makes the perfect place to enjoy delicious food all year round.
Not only do we pride ourselves on our tasty menu, but we also offer excellent customer service and great restaurant facilities, whether you're looking for a quick lunchtime snack or you'd like to spend a lazy afternoon enjoying a family meal.
Only eight minutes from Syston!
Come in from the cold winter weather, sit by the fire and take a leisurely browse through all of the delights that we have to offer. The Star Inn, situated in the heart of Thrussington village, offers country gastropub dining at its very best and, at only eight minutes' drive from Syston, it's an easy place to find.
Reserve your table today!
We're pleased and proud to say that the excellent customer reviews keep coming in for our restaurant and hotel, so, if you're planning a special occasion over the coming weeks and would like us to make it extra special, why not reserve your table today?
We are always pleased to help cater for a variety of tastes and diets, so get in touch for more information and then sit back and enjoy.