Delicious food and drink shared with family and friends is one of the best bits of Christmas and here's your chance to carry on that feeling into the New Year.
As the countdown to Christmas gets underway at The Star Inn, we are offering ten people the chance to win a £25 meal voucher for use in our restaurant after the festive period has come to an end.
So, when you've enjoyed the delights that our Christmas menu has to offer and would love to do it all again, you could be dining in style with us only weeks later, but this time, it's on us.
To be in with the chance of winning, all you have to do is tell us the year that The Star was built – email your answer to info@thestarionn1744.co.uk or, alternatively, sign up for our newsletter here https://www.thestarinn1744.co.uk/newsletter-sign-up/ to be entered into the competition.
So if you know a friend or relative who would love the chance to win a £25 voucher to spend on a delicious dining experience in the New Year then just point them in the direction of our website, where they can register their details. (Anyone who has already done so will also be automatically entered).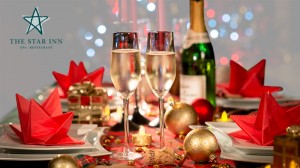 And, if you can't wait until then, remember that from Saturday November 26, you can bring friends, work colleagues and family members to enjoy lunch and dinner parties with our Christmas Party Fayre Menu. Some of our exquisite starters include breast of pigeon, Chicken Ballantine and tempura squid, along with a whole host of traditional and tempting main courses and desserts.
Live acoustic music in the bar will also take place every Saturday from November 26, all the way up to New Year's Eve.
Places are filling fast so we recommend booking your Christmas Table or New Year's Eve Table  to avoid disappointment. Alternatively, call 01664 424 220 to secure your table.