If you are attending a function at Brookbsy Hall and looking for a countryside hotel near to Brooksby Hall, then The Star Inn 1744 hotel is the perfect location. We pride ourselves on offering high quality accommodation and a home from home feel.
If you are at a wedding or a team building event at the hall, The Star Inn 1744 hotel is the perfect choice for accommodation and a night here will leave you feeling refreshed and relaxed. We are proud of our award winning beds and crisp white linen which makes for a wonderful nights sleep.
Our newly refurbished restaurant and bar boasts all the country features of a traditional country inn. All of our food is cooked from fresh and locally sourced. The bar selection offers a fine selection of wines, local real ales and premium soft drinks.
This makes The Star Inn a great place to stay and relax before or after your event at Brooksby Hall.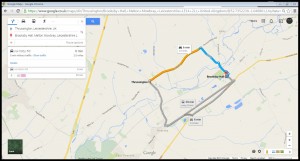 Great Location & A Short Drive
The Star Inn is located in the chocolate box village of Thrussington and is a short 6 minute drive from Brooksby Hall.
We offer a selection of different room ranging from King sized ensuite, Twin and Single rooms. Recent refurbishmenet has now added two additional rooms in the keepers' cottage one of which is ground floor located. All of our rooms are finished to a high standard and create a real feeling of comfort.
A continental breakfast is included and offers a wide selection of pastries, meats and cheeses. A cooked breakfast menu is also available offering such items as the traditional full English breakfast.
Book Your Room Online Today
If you need a hotel near Brooksby Hall, book online today or contact The Star Inn to check availability. We guarantee that you'll leave the hotel feeling refreshed and prepared for the day's activities ahead.
More information on events at Brooksby Hall can be found here.